Interview with Jamie Currie: Youngest CPCS Red Card holder in the country
---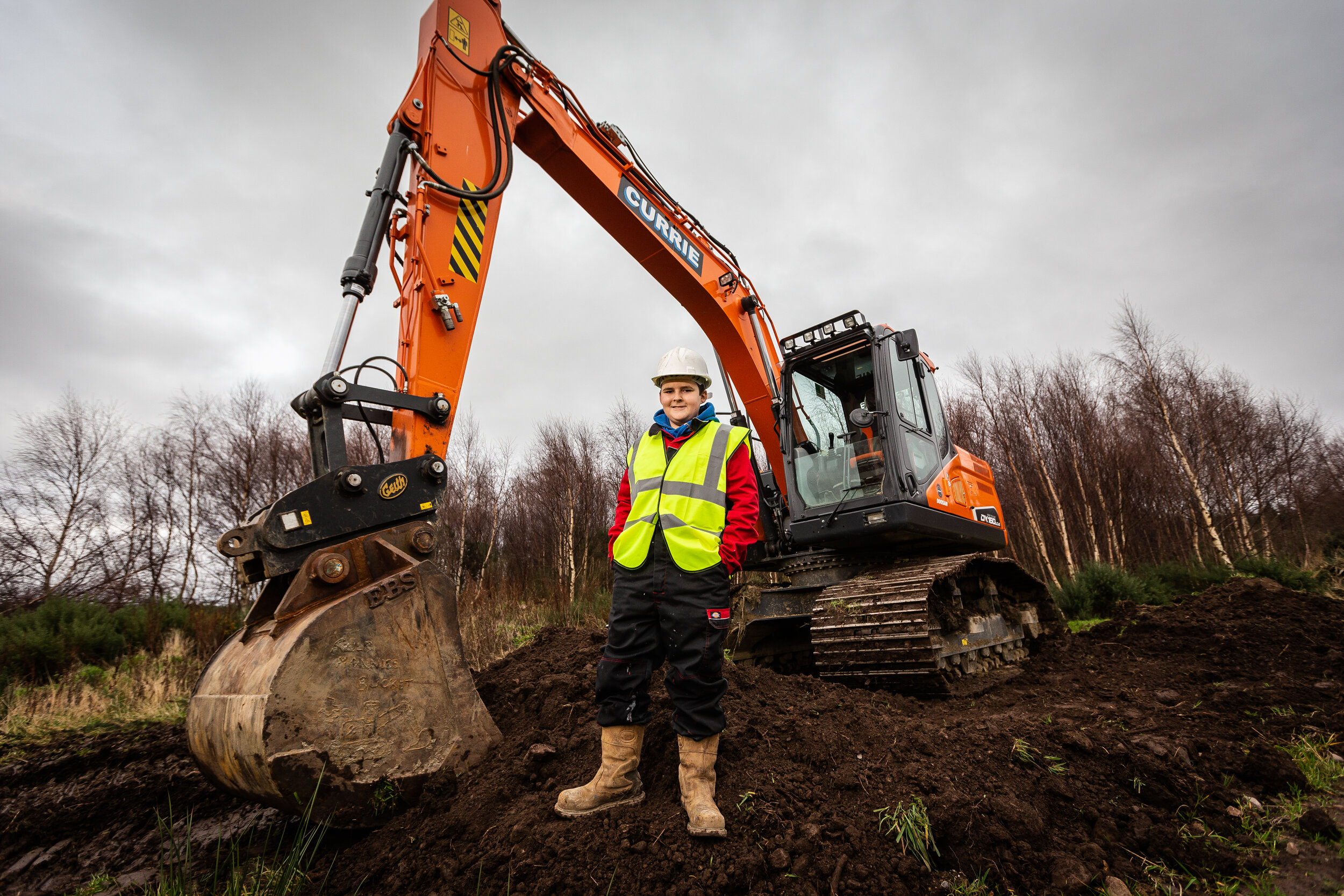 ---
UK Plant Operators Magazine interviewed Jamie Currie on his achivements during 2020, we give thanks to UKPO for their support and coverage on this story and have pleasure in sharing the interview below.
At a time when lockdown had hit hard and most teenagers were challenged with home learning, not seeing their friends and eating a hither to unknown delicacy of sourdough bread, a plucky 13-year-old from Cullen, on the edge of the Cairngorms and some 50 miles north of Aberdeen set out to achieve a lifelong ambition.
When Jamie Currie was just 5 years old, he became aware of the family business, Currie Contractors Ltd, established in the 1970's by his grandfather and now operated in partnership with his father James.
At this tender age, Jamie was set to be sat in his first ever excavator, a 1.5ton Hanix mini, working on a job at the family home… it is from this point that Jamie was hooked.
UKPO caught up with Jamie and Father James to find out more about the motivation and determination needed to become one of the youngest people in the UK to qualify for a CPCS card.
UKPO: Jamie have you always wanted to be an excavator operator or was there ever a burning ambition to play centre forward for Aberdeen?
Jamie: No since sitting in my first machine all I have ever wanted to do is to help my dad and grandad, and work in the family business…that's what I want to do.
UKPO: James all dads are proud of their sons, can you tell us more about Jamie's early development and when you started to recognise what he could do and achieve.
James: I have two sons Jamie and Jay both are very inquisitive and have always been interested in what I do, and construction equipment. I have drummed into them from day one that safety and how to do a job correctly is more important than anything. From the first time Jamie sat in that Hanix machine, he just got better and better at operating, and better and better at understanding where to position the machine. This all makes the job easier, gives Jamie confidence and demonstrates how natural an operator he is, people tell me he makes it look effortless.
UKPO: Jamie how was lockdown for you?
Jamie: Lockdown was ok, I missed seeing my friends, so I did my schoolwork in the morning then started reading the books I needed to, so that one day I would be ready for my operator's test. I also made some videos for TikTok showing me taking the cap off a water bottle with a ditching bucket…there is a nice one on there in slow motion which was fun to make.
UKPO: Jamie what are your favourite machines at the moment?
Jamie: I like Doosan machines, it's what my dad operates, they are comfy to sit in and easy to operate. I would like to try some larger machines the types I see when I go to trade shows like ScotPlant
UKPO: James this is a big undertaking, the CPCS card test is practical and competency based how sure were you that Jamie was not taking the test too young?
James: About 3 years ago we went to Scot Plant, JCB had an operator challenge with a 3CX and a series of tennis balls, considering Jamie would only have been around 10 years old, he did really well to compete with operators three or four times his age. It was one of the JCB trainers who told me you can take the CPCS test at 12 years of age. I know as a trainer myself the standard required, whenever we were out and about, I would ask Jamie questions about what he had studied and what I had taught him, once he started getting 9 out of 10 regularly, I knew he was ready.
UKPO: How easy was it to book the test for a 13-year-old?
James: It was actually very straightforward to complete the forms, finding a training centre to hold the test was a different matter as a number of centres said no, as they didn't have the necessary insurance. I finally had a positive response from a test centre in Glasgow. So, we booked it and a week later we drove down there to take the test. In a way I was glad the test centre was so far away as they did not know me, my business or background, and had not heard of Jamie so it felt completely neutral.
UKPO: Jamie were you nervous?
Jamie: I was to start with, but once I got started, I felt better as I knew more and more of the answers.I didn't know i'd be THE youngest operator in the country today, but knew if I passed, I would be one of them.
As we all know Jamie passed with flying colours scoring a very impressive 96%. A triumph for a determined and driven individual who dedicated and maximised the time afforded by lockdown to secure a qualification that will serve him and his family's business well. So what's next for Jamie, where does he go from here?
James: When Jamie is 16 and until he is 18, he is classified as a young person and will only allowed to operate whilst under supervision. At 16 Jamie plans to take an NVQ then move on to secure his blue card after which he will become a fully qualified operator. Jamie will become a real asset for the business as skilled operators are increasing difficult to find.
It was interesting talking to generations and in particular Jamie as he plans what will hopefully be a long and successful career in the industry. UKPO went on to discuss what role he sees technology playing during his lifetime as a plant operator.
Jamie said "I can see fully remote-controlled machines being used on site, with the operator in something similar to a booth making it even quieter and safer. 3D technology will become a standard in the cab, there are advantages and disadvantages and I hope there will always be a role for the operator, but it will be a different role".
Jamie's dad James added "I will be encouraging Jamie to understand more about the engineering aspects of being an operator firstly concentrating on levels and volumes the operator of tomorrow is going to need to be more technical than those of today if they are to adapt and develop".
It really was both fascinating and interesting spending some time with James and Jamie. It also became very clear, very quickly that this was not some sort of stunt or ego trip and that Jamie and his journey was genuine and heartfelt.
Perhaps this is the perfect storm for Currie Contractors. As technology and working practices change, the business clearly has an inspired individual who seems set to stay ahead of the change curve. As the industry looks forward to a period of sustainable growth and the business looks forward to a bright and prosperous future with a third-generation owner in its midst and destined for the top.
Perhaps also this is the perfect storm for the industry, the economic forecasts for construction look good, there is a skills gap of a growing magnitude around operated plant, technology will change the role to that of a cleaner more engineering-based role, university for numerous reasons is not for everyone, a CPCS card can be obtained before or on leaving school as can the HSE and first aid elements, the industry is evolving, and we are always learning.
The Scottish Plant Owners Association (SPOA)
The SPOA were keen to comment on Jamie's achievement and what it might do to raise awareness about the chronic skills gap and the role the association is playing around the recruitment drive. We spoke with their Vice President, Callum MacKintosh to find out more:

Callum said "myself and my colleagues within the association were delighted to hear about Jamie's achievement, we know his father's business and trust the publicity arising may inspire more young men and women from all backgrounds to consider the construction industry and in particular operating construction equipment.
There are many businesses like Currie Contractors in Scotland and around the UK and Ireland who are family owned and have youngsters who want to work in the business, but perhaps don't realise they can put in the foundations and achieve the qualifications whilst at school".
The SPOA led and funded programme in 2019 that that involved a plant simulator travelling to schools and careers event around Scotland. The objective was to introduce the world of machine operation in construction to students in the education system and who were perhaps unsure about their next steps. Alas the onset of COVID-19 was to see this initiative temporarily paused.
Callum continued "The school and careers roadshows were very well received we were showing students who were tech savvy, naturally ambidextrous from gaming, and lightning quick at inputting and responding to data from their electronic and telecommunication interactions, a work environment that involved 3D machine control, digital inputting and machine autonomy.
The reaction was really positive as the students competed with each other for the quickest time, to load a dump truck for example. We trust this path once we can resume the drive, will enable students to recognise the role will become, safer, cleaner, and more digitised enabling a yearning and pathway into the industry.
UKPO: The SPOA clearly recognises the challenge but also in speaking with Callum you get the sense more importantly the SPOA recognises the opportunity. Many left the industry last year and many more will this, so whilst this is the end of an era, technology will change the world of operated plant significantly in a relatively short period of time. This in the opinion of the SPOA is a perfect storm, a generational transference that will create an exciting period that offers a new vocation to a group who recognise the opportunity to be employed, self-employed or become an owner operator at a time when unemployment for this age group may take longer than others to recover from the pandemic.
Callum concluded that the SPOA will continue to lobby government for funding and support. The association also recognises and encourages the role and opportunity the major plant hirers play in establishing joint ventures with major contractors, creating operator hubs and working with construction training colleges.

You can read the full January edition of UK Plant Operators magazine here.
---
Other News
---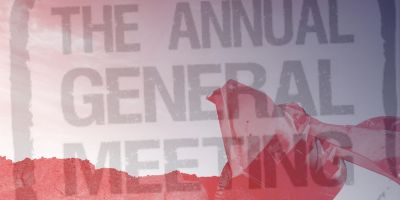 Mar 12, 2021, 3:59 PM
ON THE 9TH MARCH 2021 THE SCOTTISH PLANT OWNERS ASSOCIATION HELD ITS 70TH ANNUAL GENERAL MEETING BUT WITH A DIFFERENCE...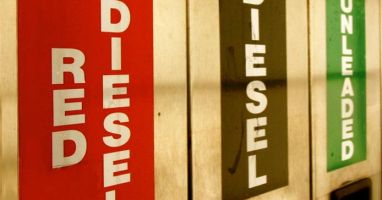 Mar 10, 2021, 2:44 PM
The UK Government has not supported the plant hire industry by continuing with the red diesel subsidy, despite consulting with the SPOA and other…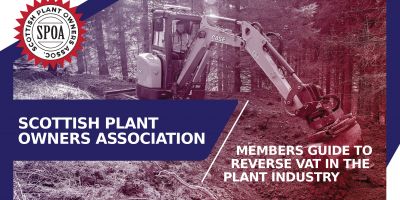 Mar 10, 2021, 2:40 PM
With the upcoming introduction of the VAT Reverse Charge on 1st March 2021 the Scottish Plant Owners Association has produced guidance to explain what…