Young at Heart - Brian Young, a letter to the industry December 2020
---
Dear President, Vice President, Fellow Committee members and members of the Scottish Plant Owners Association
It is with some sadness that I formally retire from the Committee (after 4 years) and the Industry (after 40 full time years). The Covid 19 situation has severely limited my time and input to the Committee this year (not being a fan of Zoom or Team meetings) however those stalwarts who maintained and promoted our organisation so well under these extreme circumstances deserve all of our admiration and respect. I thank you and hope that all our members do too. The SPOA have spear headed several outstanding campaigns (red diesel rebate/Reverse VAT/CITB training issues and levies and Operator's Cards to name but a few) whilst we all try to cope with running our businesses and surviving the virus.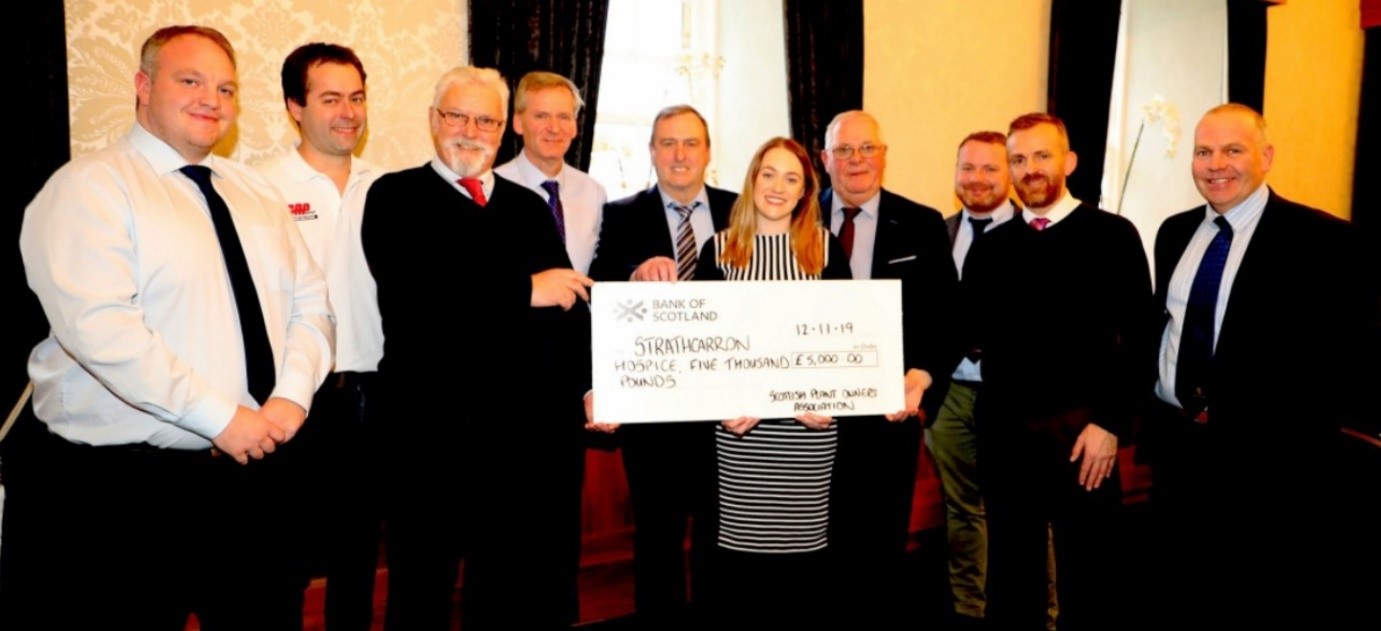 Above, the SPOA Committee hands over a cheque for £5,000 raised at the annual dinner dance to Strathcarron Hospice. Brian (third from the left) proudly holding the cheque
Reflections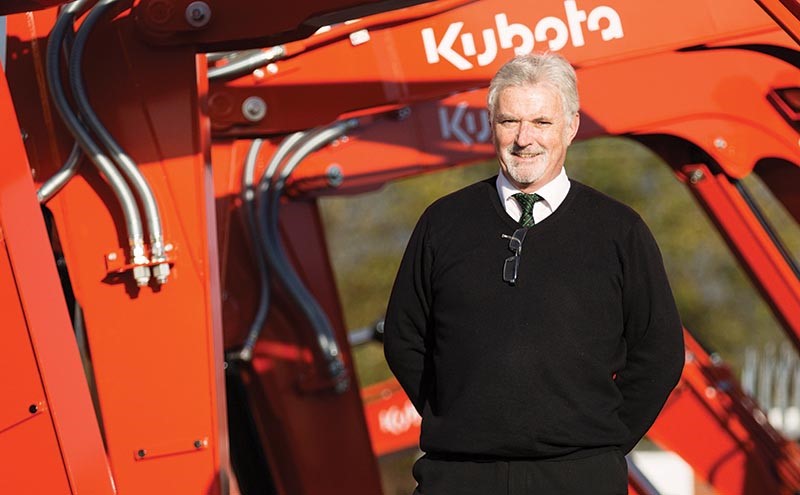 I really started in the Industry as a baby as my Father Tom worked with JCB direct at that time and later with dealers Gunn and Scot JCB. He regularly took us to work with him on a Saturday and we went to all the Plant Shows. Joe Bamford (Mr. JCB himself) used to visit our house on a Sunday afternoon for sales meetings "as he wouldn't waste time during the working week". As a student I would spend holidays helping out in the yard and workshop with a little demolition, drainage and road repair thrown in.
When I started full time in the industry it looked very different to the one I leave today. There was little regard for Health & Safety and it was very much up to all of us to look out for ourselves and those around us. Of course, the sites looked very different then too. There were no mini diggers, no telescopic handlers nor skid steers and no 4-wheel drive dumpers. Pavement work was completed with a pick and shovel or by a backhoe loader with 1 leg on the pavement and 1 in the road – often causing chaos with traffic flow. Wickham or UDM builder's platform hoists with hand crank single cylinder Petter PAZ1 or Lister LT1 smoky diesel engines were how bricks, mortar and other materials including sometimes trusses were delivered to men working at heights and these men had no harnesses nor fall protection equipment. We used to sell gantry type hoists and occasionally had to install or demonstrate them on the rooves of multistorey flats and tenements around the country.
We used to throw a rope over the edge of the building and haul the beams, legs, winches and engines arm over arm up to the top, before building them up and testing them with an over load. I had no head for heights, no harness and used to hate having to climb on to the beam over hanging the building to bolt it in place. Mostly someone else volunteered but not always. Backhoes were just beginning to have roll over forks fitted to them but the visibility was not good. JCB 3s, Hymac 370s and Massey 50Bs were the most common backhoes and Hymac 580s, Poclains, Priestman, Atlas, Akerman and Caterpillar were common 360-degree units. We tried to maintain a few used machines of these types in stock.
The diggers were mechanically simple and easy to maintain with no electronics, no SWL indicators, laser levelling devices, GPS trackers, safety features nor fault codes. Some customers would boast at the lack of maintenance they performed on their units "have never even greased it never mind changed a filter" – how times have changed!!
Many times, as we pioneered new equipment such as new 4-wheel drive or hydrostatic transmission and we could run in to issues with operators who had never used this type before and no matter what training we gave there was often a new jockey in the seat if we were asked to attend an issue on site. One such machine was a Sambron JAC24 hydrostatic handler with a fixed boom arm in lieu of a mast. We sold 1 of these to a council operating a waste transfer station in Campbeltown and a couple of days a week, we would have to attend to replace broken pins in the boom. The operators were used to an old 2WD shovel and lowered the bucket as far as it would go such that the front wheels were about a foot off the ground and then drive as hard as they could in to the waste pile against a concrete wall to fill the bucket. This was always an "emergency" breakdown so we would need to be on site before 8 and it was a good 3 and a half hours drive from home if we had the parts in stock. In the early days this was not always the case so we used to drive to Motherwell station to the red star collection centre and wait for the first train from England each morning due about 6 a.m. Once we had the parts, we would head for Campbeltown and carry out a fairly demanding days work with no lifting aids as this was the only machine on site. Red Star train deliveries actually worked well for us as we could collect parts in Stirling (if not needed urgently) a little later in the morning and drop parts in for onward delivery to Inverness, Oban, Fort William, Dundee or Aberdeen stations which could be collected the same day. Deliveries to the Highlands and Islands can now take up to a week by road couriers. Progress?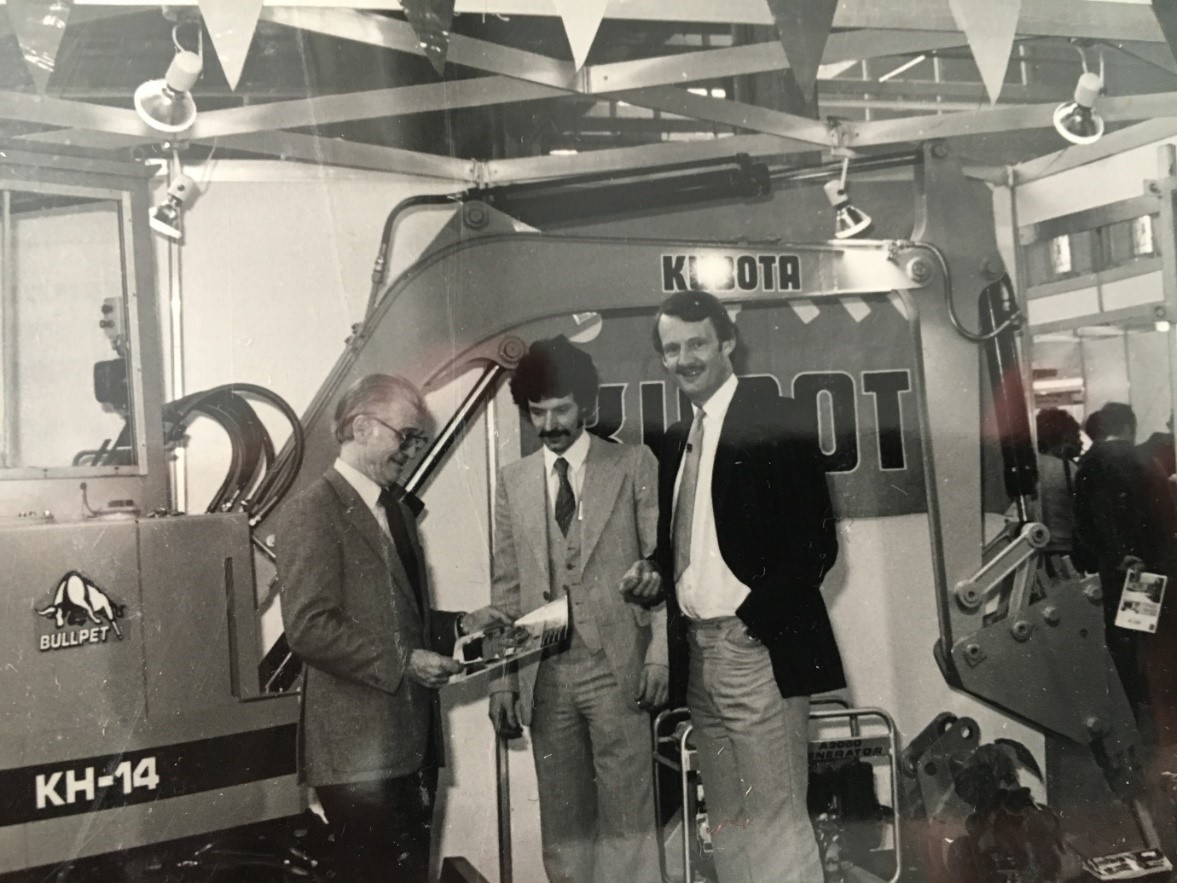 Above, Scot Build 1980 (ish) Kelvin Hall, Glasgow with Keith Bradbury of Bradbury Plant.
We had a similar scenario near Peterhead at the St. Fergus oil terminal where a large oil pipe running to Aberdeen had been erected too low to the ground and Lilley Civil Engineering had the job of digging boulder clay out from underneath it. The clearance was too low for any conventional digger and our 3 ton (only model in the range) mini digger was too big. We were called in to offer a solution. The only mechanical means we could find (too heavy for pick and shovel) was a 17 HP mini tractor with a small backhoe and front loader. Demonstration was done and the order was placed. Within 2 hours of installing it we received the first break down call. The digger was no good the bucket had failed. The operator had put the tractor in its highest PTO setting and had pulled the floor out of the bucket which was light duty admittedly, but all that the manufacturer offered at that time. A quick trip to the ship's chandlers in Aberdeen and we had a new stronger floor in the bucket. All well…until the next call. "We've broken your digger and need it fixed straight away."
An early start saw George Davidson, our engineer at that time, and myself arriving on site in our old van with no heater on a very frosty winter's morning. The digger was well broken. The whole sub frame had snapped and been torn out from under the tractor. Not ideal. The backhoe and front loader were dismantled on site and the remains of the sub frame unbolted and thrown in the back of the van. Off to the chandlers again and wait until the sub frame was cut and welded and plated to strengthen it and then back to site. By the time we got there it was dark and snowing (a lot) and no-one else was working. We got access and started to bolt the sub frame back on and rebuild the digger. It was so Baltic that we took it in turns to take a boot off and hang it over the exhaust to warm our feet – even the tools froze to the ground. It was late when we left site and the roads were blocked in several places as we started to head home so diversions were needed. We got home in the early hours of the morning and were still waiting at Motherwell for the first train at 6 the next morning. Another trip to Campbeltown.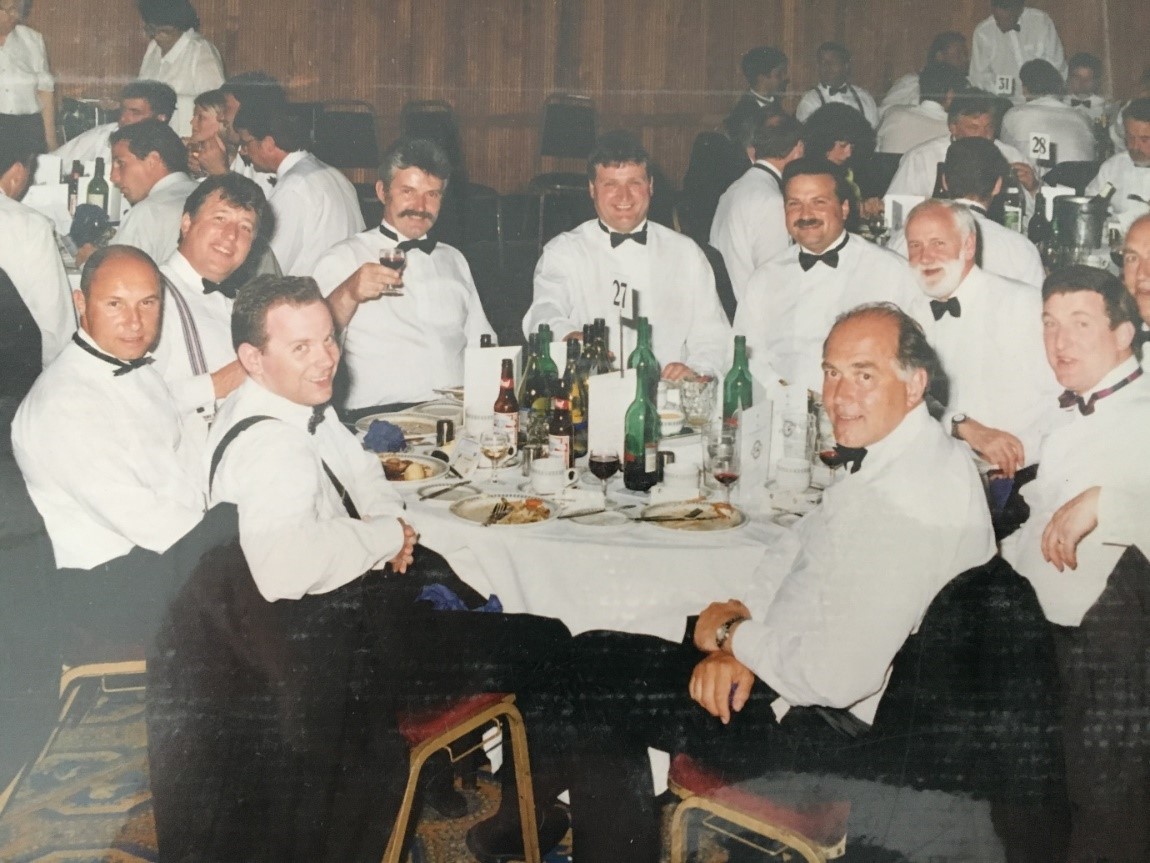 Photo above taken at an SED Dinner in the midlands with Bob Lyttle, John Jarvie and Hugh Brown.
There were similar trips to Manchester and further south, after hours at night when a customer wanted a hoist or similar on site at 8.00am the next day and we didn't have the right one in stock. Our supplier would come and open up for us at night, load us and we would turn around and drive back to be ready for the next morning. Every order was precious.
George, who went on to become our service manager, would quite literally go anywhere and tackle any problem. We had a warranty issue on a digger on a peat moor on Shetland but unfortunately George had broken his ankle, was on crutches with a stookie. He couldn't drive his van! In the end he volunteered to fly up and the customer collected him and his tools at the airport and took him out to the bog. Suffice to say job done and he did not need to convert his crutch to LGP.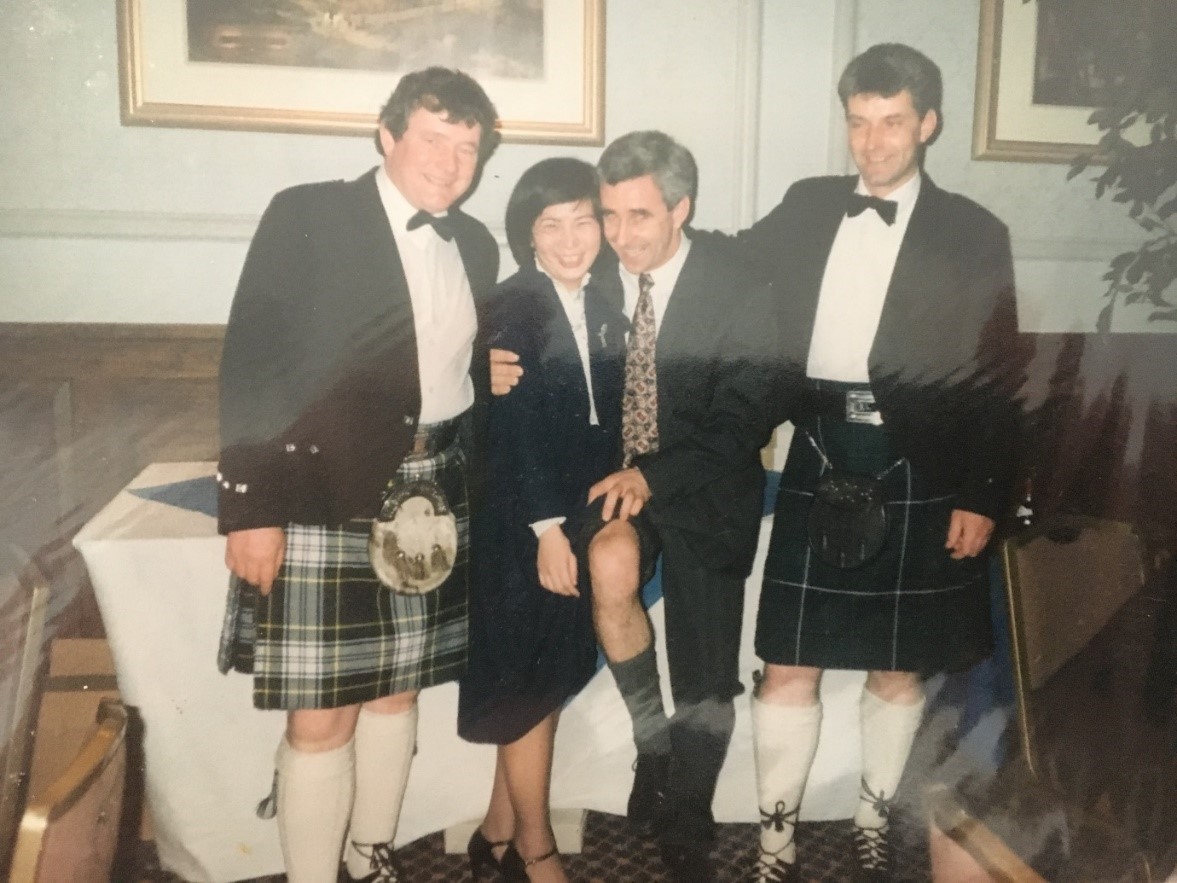 Above - George Davidson and myself with Pat Murphy (Dealer for Ireland) and Kubota UK M.D Bon Tabata's wife at a Dealer Dinner early 80s.
Another time we had a plea for help from the Isle of Eriskay (Whisky Galore fame) where we had supplied a new digger the year before. The customer complained that he was on a busy job and that the digger would not start. He needed urgent help. Ferries were going to take too long and cost too much. In the end we flew him to the Isle of Barra whereby another customer collected him and took him to the port and arranged a fishing boat to take him over to Eriskay. The customer met him on the quay with his new taxi (a Zetor tractor). He told George through the window, that he would have to get in on the other side as the near door did not work. George took the keys and unlocked it. It worked fine. This was a measure of things to come. The next morning, he was taken down to the beach where the digger was parked. Right enough the key start did nothing. On checking, the battery was flat, there was a bird's nest on top of it and the fuel filter was blocked with dirty diesel – it had less than 50 hours on the clock but had not been started in quite some time. "You never told me that this would not be covered by warranty" was the familiar cry.
It was about this time that I went down to open the works one morning and as I locked the gates in to the open position, I noticed a car packed across the road. On taking a closer look I realised it was Douglas Anderson of GAP Group with Chic the Linwood Manager. My heart stopped as I suddenly remembered I had arranged to meet Douglas and Chic at 7 a.m. to show them the latest model hoist. This was pre mobile phones and maybe even alarm clocks. Humble pie was eaten and a red-faced apology was given. Big thanks to Douglas for not holding a grudge as we went on to do great business over the many years and GAP Group became the biggest world-wide customer for Kubota mini diggers.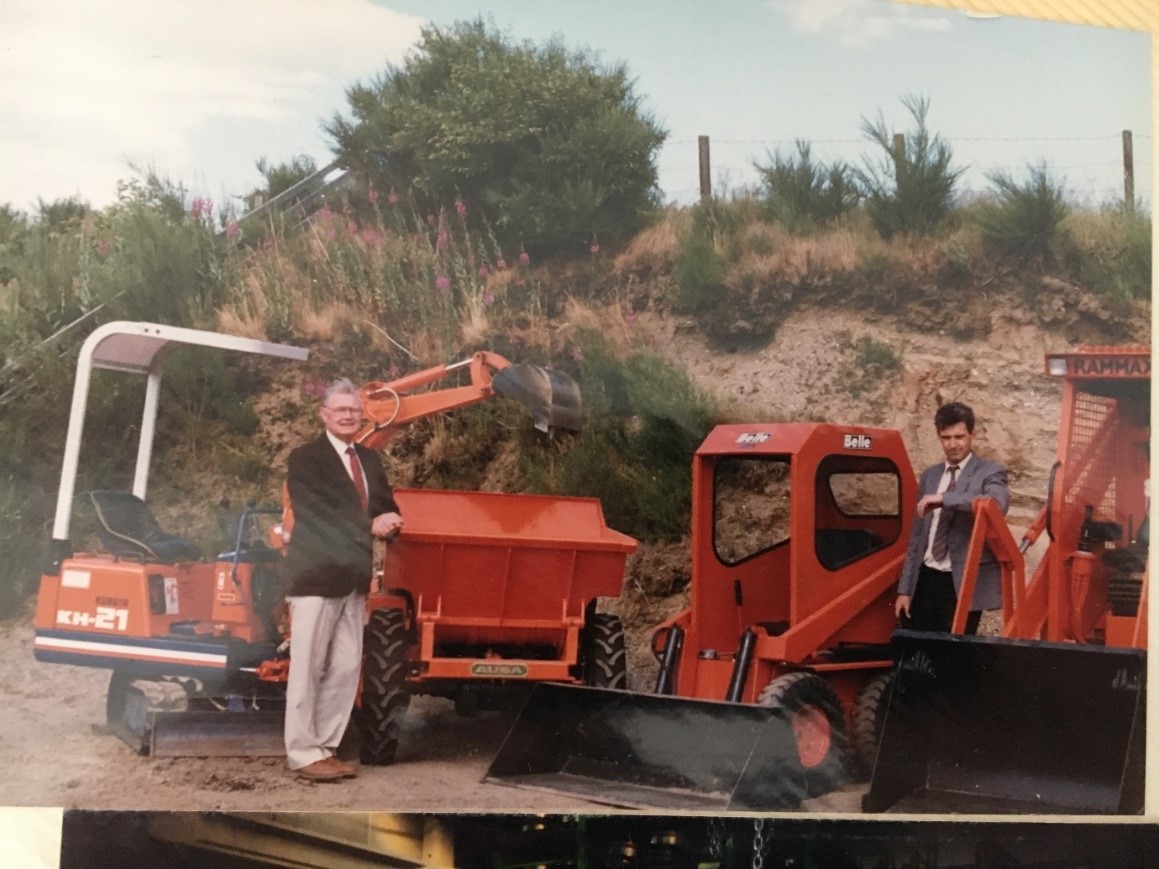 Above - Father and Son, Tom Young (RIP) and myself with some early compact machines for sale from Kubota, Ausa, Belle and Rammax.
I remember at the very first Hamilton Plant Show our stand was on a corner near the main entrance and having spent many hours setting up our display machines (Elephante hoists and Sambron rough terrain forklifts), we went home happy that the stand was ready for the next day. When we arrived in the morning our stand looked very different. A low loader with a very late delivery could not access the site as the corner was too tight and "someone" had dragged our displays out of the way using chains. They had no keys to start our machines nor to release the brakes. This kind of event was common place and Hamilton Plant Show could be very lively and colourful with many characters and much drink flowing.
One event at an early show was a 2-wheel drive dumper race on the sloping terrace of the main stand of the race course. Once the gravity tip dumper was hand crank started, we had to complete a timed course around cones. Mind there was no such thing as power steering nor suspension then and it was a hairy ride that H&S would never allow today but was great fun to all who took part and those who watched too. Wacky races indeed.
There was also a demonstration area for any exhibitor who wanted and diggers and dumpers were available for any customer to try. No cards needed.
My mother, Bridie (RIP) had a very uplifting experience after the Black Isle Show when we were breaking down the stand on the Friday morning. She and Jean decided to make a convenient call to the portaloos as the main toilet block was locked. Whilst she was suitably engaged a farmer with a forklift whisked her unit in to the air and prepared to load her on to a wagon. Fair to say that she was shaken if not stirred. She would have been in her late 70s then but it did not deter her at all.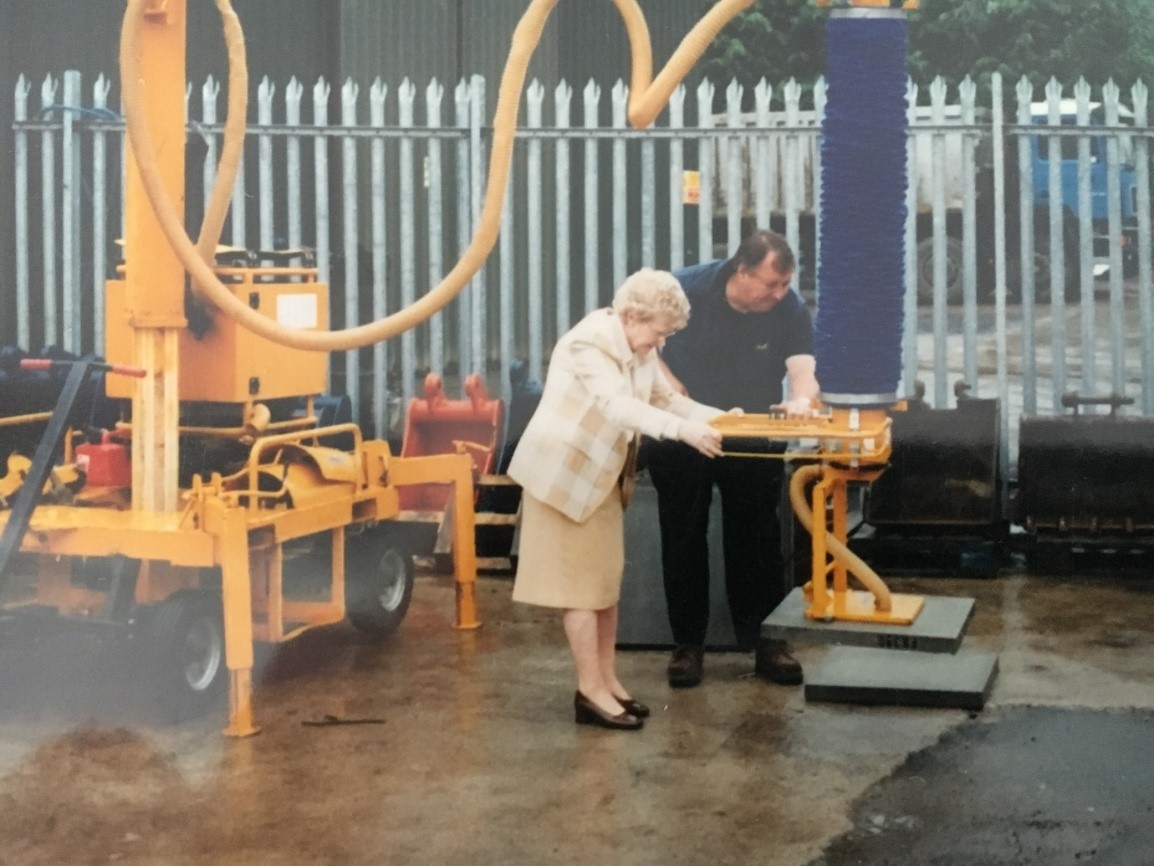 Above, Bridie (RIP) demonstrating her prowess with the Probst Slab and kerb layer.
After several years of hard work, the Mini Digger had finally arrived and numbers sold were growing annually as were competitors and the range of models. I attended a meeting in Oxford with Kubota UK as they approached their 10,000th new mini sold in the UK and they advised that they were planning to bring 100 silver painted diggers to the UK to commemorate the event. Would we buy 10 of them for stock for Scotland? Of course, the order was placed and we eagerly awaited the trucks to appear. Imagine our shock when truck after truck of pink diggers arrived in Doune. "They are not pink" I was told. "They are cerise". Well they looked pink to me and now we had the challenge to sell 10 pink diggers to the macho Scottish Plant Industry. We did this of course to much ridicule and laughter however the diggers proved so popular that 1 customer chose to buy all his future diggers in that colour and no customer regretted it. I was told that no matter how many diggers were on site everyone always talked about the pink one. Someone in an elevated position at Kubota decided that several other makes had already used silver machines to mark anniversaries and they did not want to follow suit. So "Cerise" it was.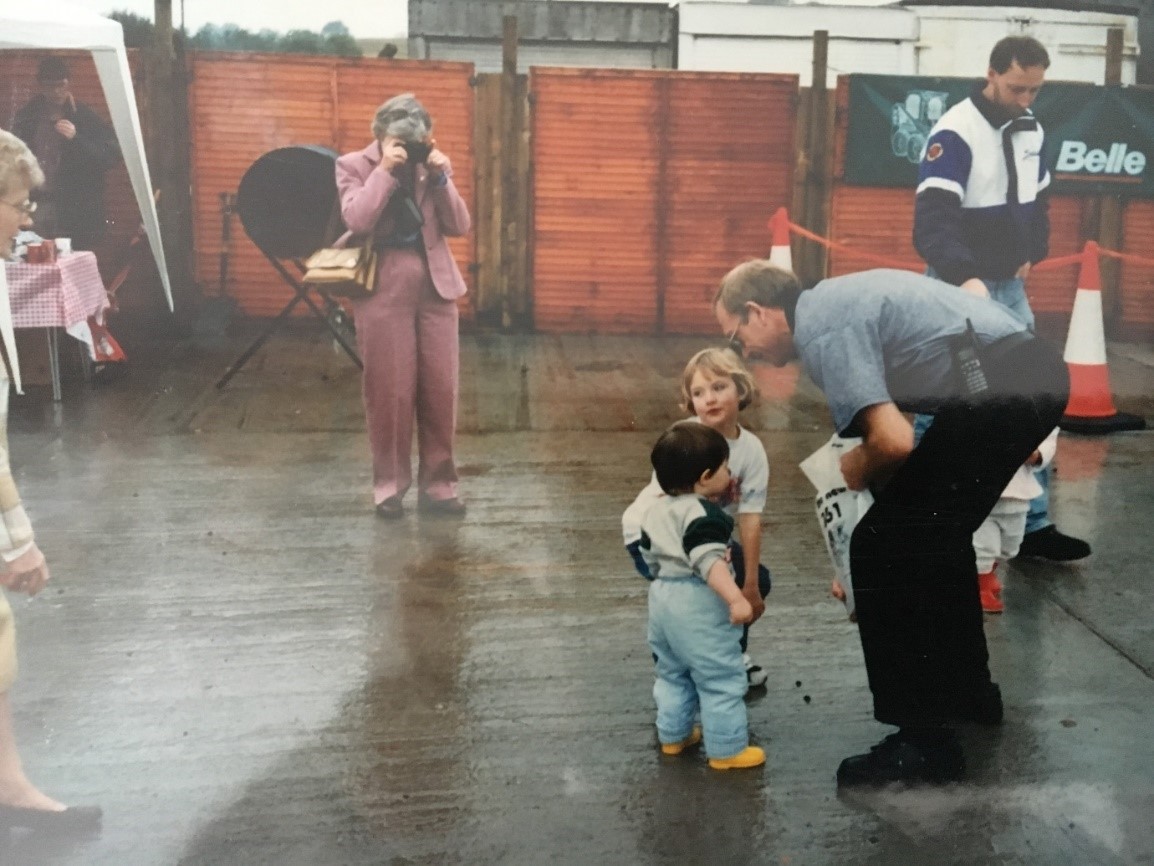 Above - We start them "Young" my son Joe with Linzi Kerr (now Service Office Manager) and Richard Sayers of Kubota UK.
I have worked alongside some great professionals over the years and enjoyed many, many laughs and great experiences. Many of these were colleagues at Young Plant Sales and our suppliers as well as long-time customers. I was very proud to work alongside colleagues like my parents Tom and Bridie, Bob Lyttle, Olive Kerr, Helen Lidgate, Ross McKay, George Davidson, Sandra Valentine, Alan Peat, Andy Wilson, Stuart Millar and Vic Di Nardo to name a few who all worked with us for a minimum of 15 years each and some nearer 40 years. Without their help it would not have been possible nor fun. I was proud to have completed business with 3 generations of both the Gordon Anderson Plant and Jarvie Plant businesses as well as several 2 generation businesses like Gordon and Graham Bow (who have all served on the SPOA mostly as President) and major utilities as well as one-man businesses. Every sale and every customer was important to us and I hope to maintain these friendships well in to the future.
The business also gave me several memorable (?) trips abroad including factory trips to Japan, the USA and Germany and exhibitions in Las Vegas, Munich, Bologna and Paris with colleagues and occasionally customers too. These trips were very welcome, very informative and generally very boozy with hilarious moments spent in beer Kellers and other drinking establishments. As with most of these trips what happens on a road trip stays on a road trip. Safe to say we always got home even if alternative flights were occasionally required and the credit card took a battering.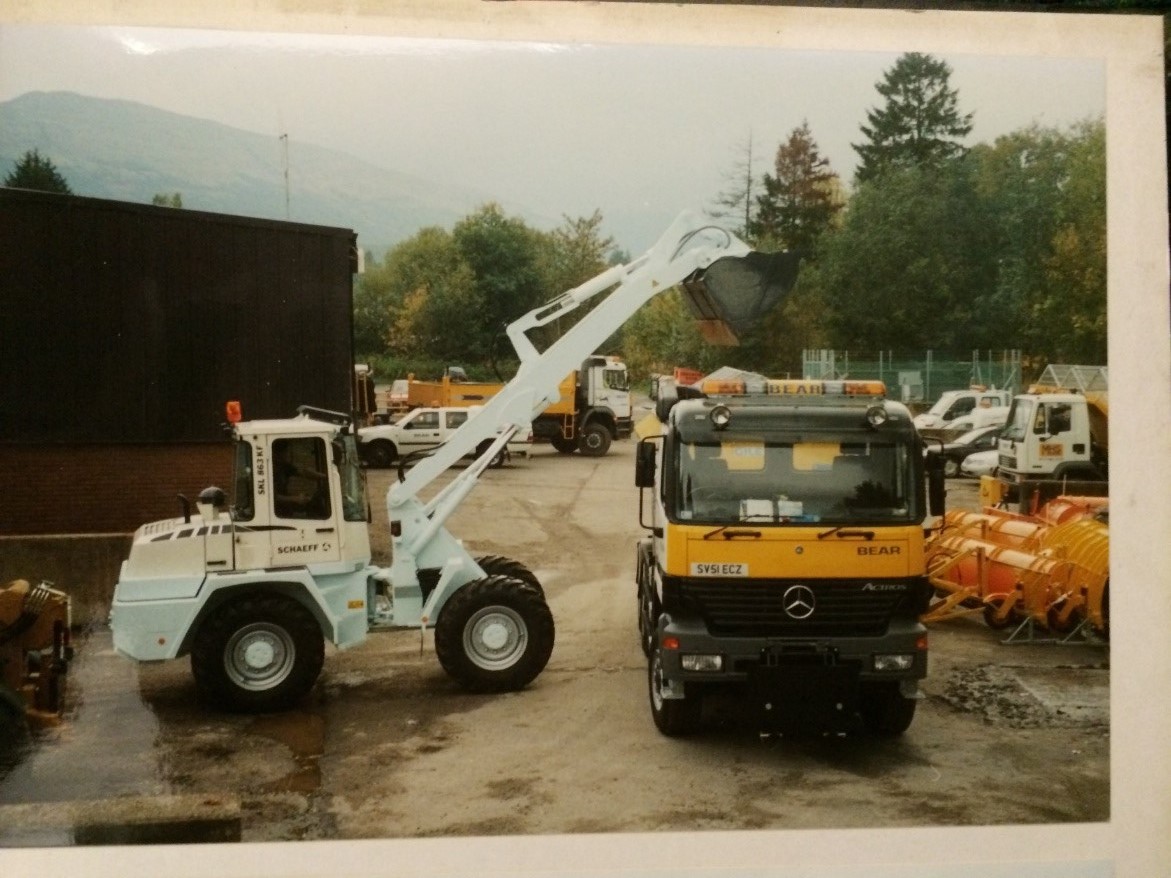 Above - 1 of 4 special long reach loaders we had made for BEAR Scotland for loading Gritters.
We maintained very close relationships with our suppliers and even had a sales manager Steve Cooper of Kubota appear as a guest at my marriage to the lovely and forgiving Jean. Again, going back to the early days, we pioneered many new machines and devices. Selling the first few mini diggers in the Scottish market was an uphill battle which took great perseverance. My Father sent me out the day I started with a brochure for the only model in the range the Kubota KH10D with no training and no customer base. I had never sold anything before and spent my time driving around building sites and industrial estates hunting for anyone who would listen to me. There were many jibes about where I could stick my "dinky toy" and suggestions as to what it may be fit for, before I was able to organise any demonstration or get anyone to take it seriously. It was only by challenging people to try to beat it with their existing method that let us make a break through and even then, success was only gradual. It is startling to think that approx. 15,000 new mini diggers are sold in the UK every year now and they have become the must have machines on so many sites and for so many different applications.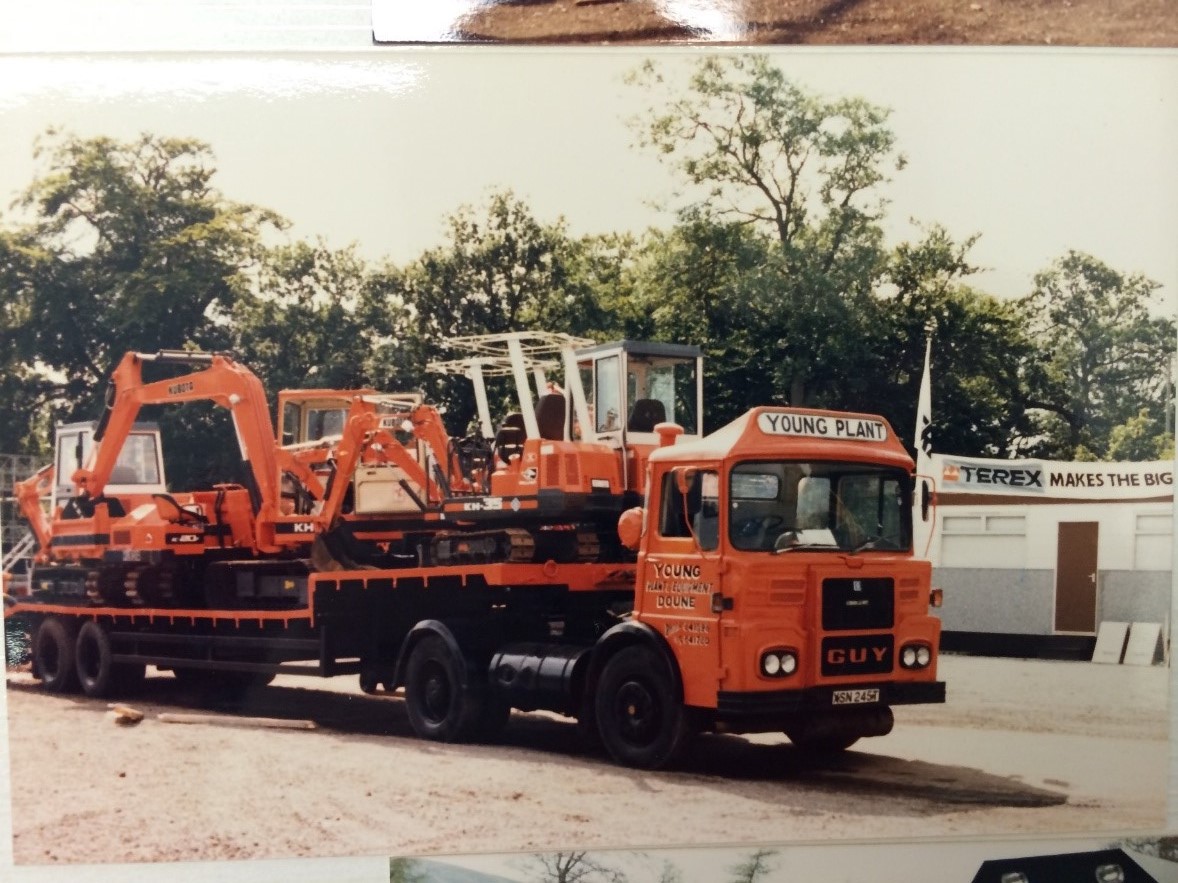 Above – early days at Hamilton Show.
The industry has grown and developed over the years and is now much more professional and financially focused. Health and safety and protecting the environment has become ultimately important (quite rightly) and we now expect to see sites with heated welfare units, induction procedures, method statements and lifting plans, PPE regulation and managers there to ensure that all guidelines are strictly adhered to.
During my tenure of the business we survived several recessions and these were hard times indeed as few customers wanted to buy new machines nor spend money upgrading their existing fleet whilst many units were idle. Selling new Plant and parts was our only source of income but with a very dedicated team we not only survived each one but came back stronger every time.
I am forever grateful to those staff and customers who loyally supported us throughout those difficult years.
Young Plant Sales has been a member of the SPOA for as long as I can remember and I was very proud to be asked to join the Committee which included many of the top personalities in our industry. The SPOA Committee works tirelessly for the benefit of its members and campaigns for our industry at the highest levels whilst also offering social events such as the dinners, dinner dance, golf and go carting events and tangible benefits such as free access to Croner business consultancy and the very important Plant Hire terms and conditions. The Web site and social media campaigns have improved and now give access so that every member can appreciate what is happening behind the scenes and make their own opinion heard by fellow members. The SPOA is the voice of our industry and is worthy of the support of the whole Plant community. I believe that the membership needs and deserves a strong SPOA and has that with the current Committee whom I wish every success for the future and beyond.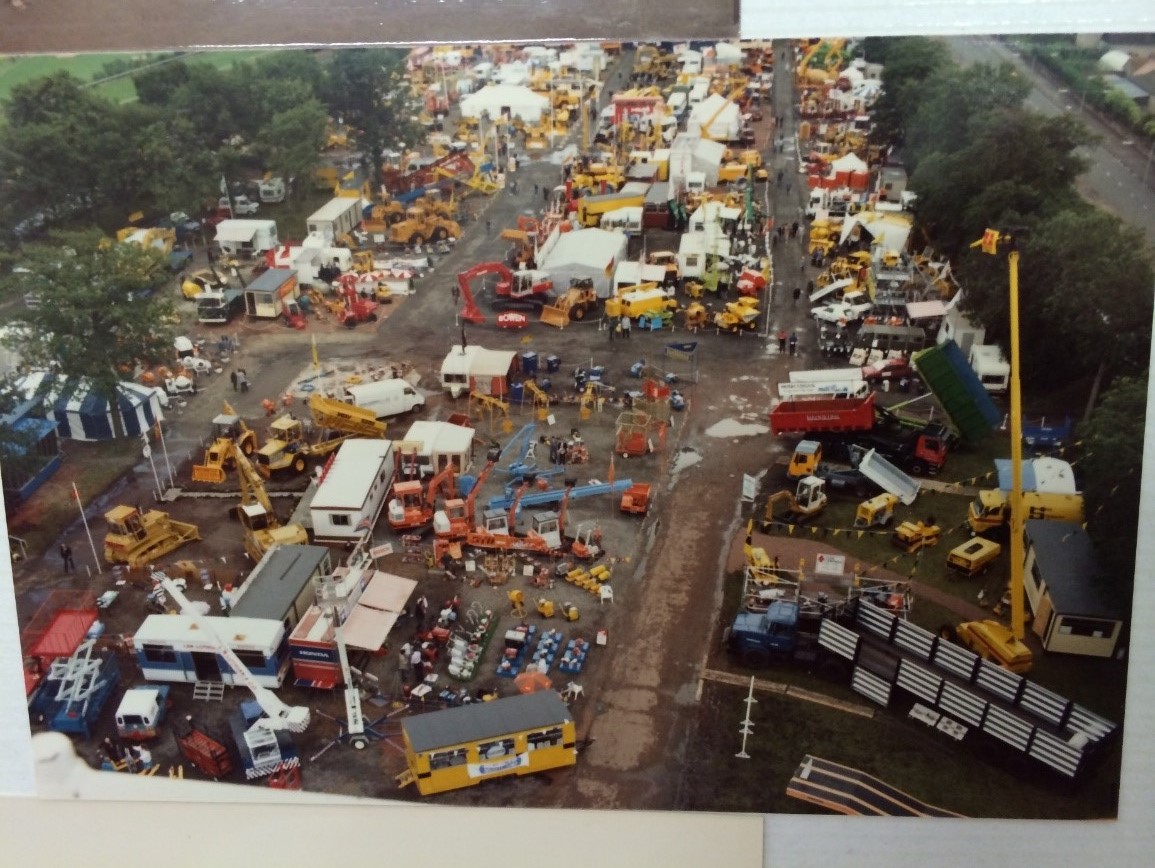 Above - Hamilton Plant Show from a very tall access platform. Our stand is in the centre of the picture. I well remember boxing breaking out on at least one other stand very close to ours.
Hopefully soon I can enjoy all the travel and holidays we had planned for my retirement. Bring on the vaccine.
Let's not be strangers,
Yours Aye,
Brian.
*The SPOA Committee and, I am sure the wider industry, would like to thank Brian for all the fun, hard work and passion he has brought to our ever-changing industry – I am sure he will not be a stranger (Mark Anderson, SPOA President - December 2020)
---
Other News
---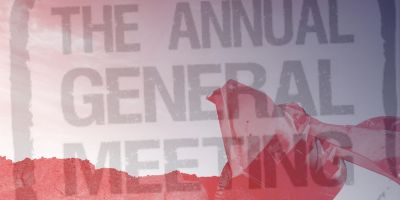 Mar 12, 2021, 3:59 PM
ON THE 9TH MARCH 2021 THE SCOTTISH PLANT OWNERS ASSOCIATION HELD ITS 70TH ANNUAL GENERAL MEETING BUT WITH A DIFFERENCE...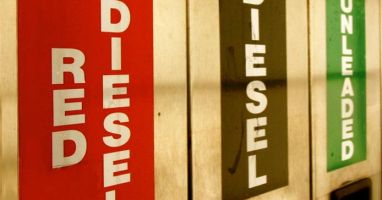 Mar 10, 2021, 2:44 PM
The UK Government has not supported the plant hire industry by continuing with the red diesel subsidy, despite consulting with the SPOA and other…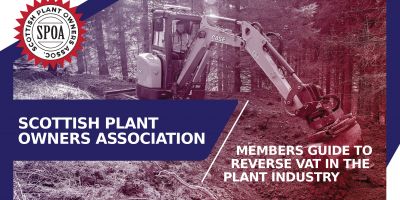 Mar 10, 2021, 2:40 PM
With the upcoming introduction of the VAT Reverse Charge on 1st March 2021 the Scottish Plant Owners Association has produced guidance to explain what…